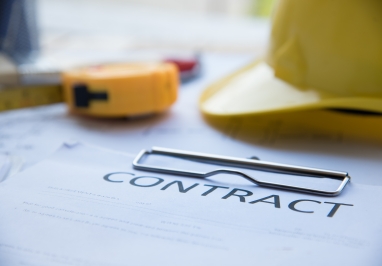 Along with all the changes COVID brought in 2021, both state and federal law makers passed legislation in 2021 that will continue to impact payment on construction projects in 2022 and beyond. In this Part 4 of our Key Takeaways series, we recap two major legislative changes from 2021.
First, we look at the status of vaccine mandates and how any mandate, whether at the state, local, or federal level may create a hurdle to a contractor's ability to applying for payment.
Second, we look at a change to Colorado's retainage law related to private projects.
Compliance with Vaccine Mandates as Condition Precedent to Payment
Although vaccine mandates were discussed in Part 3 of this series, and in our recent COVID-19 Vaccination Mandate for Federal Contractors Update, given the frequent changes to the status of vaccine mandates, it's an important topic that warrants further discussion, especially with regard to how these mandates may affect a contractor's ability to get paid in 2022. For example, we predict that vaccine mandates, and a contractor's ability to certify that they have complied with applicable mandates, may create a complicated landscape for contractors to navigate when seeking to collect payment in the new year.
On Wednesday, December 22, 2021, the United States Supreme Court announced that it will hear oral argument on two vaccine-mandate related cases. The two specific mandates before the Court are: 1) OSHA's Emergency Temporary Standard; and 2) the Centers for Medicare & Medicaid Services healthcare vaccine mandate. On January 7, 2022, the Supreme Court will hear oral argument on whether these mandates should be stayed or allowed to take effect, pending further orders from the lower courts. The Supreme Court's decision to hear oral argument on these two mandates, in this procedural fashion, is a departure from the court's normal operating procedure.
While it is unclear how the Supreme Court will rule on these two mandates, to prepare for 2022, contractors must continue to pay special attention to any new contract they sign which contains broad language that requires the contractor to abide by any and all local, state, and federal laws during their course of performance. Generally speaking, these clauses may impose obligations on the contractor to comply with any applicable vaccine mandate, including state, federal, or local mandates, thereby making compliance with vaccine mandates a condition precedent to payment.
Additionally, since vaccine mandates are becoming integrated into local, state, and federal laws, contractors should also consider the representations they are able to make when signing payment applications that require verification of compliance with all contractual provisions. If a contractor cannot certify that he or she has complied with local, state, and federal laws (including any applicable vaccine mandate), he or she may not be able to certify a payment application without exposing his or herself to potential liability.
While the applicability of current and future vaccine mandates is still a moving target, contractors can and should work with a team of legal professionals to prepare a strategy for both legal and practical compliance with all payment prerequisites they may encounter in 2022, including vaccine mandates. 
Colorado's Retainage Law Change
In May 2021, Colorado joined a growing number of states that have enacted statutory caps on retainage on private contracts with the passage of HB21-1167 ("New Retainage Law"). The New Retainage Law went into effect on September 7, 2021, and defines "retainage" as "a percentage of a contract or subcontract price retained from a contractor or subcontractors as assurance that the contract or subcontract will be satisfactorily completed" or a percentage of "a supply agreement as assurance that the goods, material, or equipment" satisfy the contract requirements." C.R.S. § 38-46-101.
Under the new law, retainage for private projects is now capped at 5% "of the price of the work completed under the contract or subcontract." While the law excludes contracts for private projects for less than $150,000, if an upstream contract between a property owner and contractor with a contract price of more than $150,000 exists on a project, subcontracts and supply agreements of all tiers for that project should be covered even if their contract price is less than $150,000.
In addition to excluding private projects for less than $150,000, the law also exempts contracts between private owners and contractors for construction of single-family dwellings and multi-family dwellings of no more than four units. We recapped this new statute in an E-Brief on May 18, 2021, which you can review in its entirety here. 
Because the law just went into effect in September 2021, Colorado courts have yet to decide many of the legal issues that may arise under this new law. Some are predicting that the decrease in the amount of retainage an owner and/or general contractor can withhold may result in owners releasing final payment later, thereby increasing the need for contractors, subcontractors, and/or suppliers to utilize their mechanics' lien rights. If this prediction turns out, it will be more important than ever that subcontractors understand their lien rights and implement processes to ensure they are properly calendaring the applicable deadlines to prosecute their claims.
When signing new construction contracts, be on the lookout for other provisions that purport to allow the other party to withhold payment for any reason. The New Retainage Law is clear that it "does not change, override, or invalidate any other provision in a contract, subcontract, or supplement agreement." We would not be surprised to see new and unique provisions in construction contracts that attempt to circumvent this new cap by way of fees, new payment conditions precedent and other set offs that do not fall under the definition of retainage. As always, remember to read your contracts in their entirety and seek legal advice for any payment provisions.
This ends our four-part series on our Key Takeaways from 2021. We wish you and your family a very happy New Year and look forward to serving your legal needs in 2022. Be on the lookout for our New Year's Construction Contracting Resolutions, which will set you up for success in contracting in 2022.
If you have any questions, please contact one of Woods Aitken's Construction Attorneys. We encourage you to subscribe to our Construction Law E-Briefs for the latest construction news, tips, and updates.