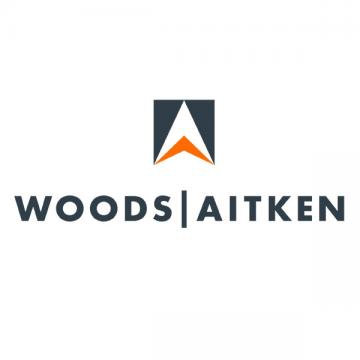 Woods Aitken LLP is excited to announce that as of October 1, 2019, the firm has updated its name, dropping the ampersand.  In addition to the updated name, we are also introducing a new brand and logo, launching a new website, and will be going through exciting renovations over the next year. The changes reflect the firm's team culture and focus on our continued commitment to client service. The firm will use Woods Aitken in its marketing and communications.
"Many clients refer to the firm as Woods Aitken, plus the website URL and email domain indicated this already, so the ampersand drop is a natural fit," said Lindsay Pape, Marketing Director at Woods Aitken. "We wanted a clean and fresh look. Taking the font from serif to sans serif and selecting bright and bold colors keeps it clean and modernized, along with representing a level of boldness that clients look for in attorneys."
The firm started to think about updating its brand identity two years ago. The updated name and look appear after comprehensive research with an outside agency, client interviews, and feedback from attorneys and staff. In addition, internal meetings have focused on standards, goals, and workplace culture. The new website communicates our commitment to clients, the value we bring, our collaborative approach, and the vast experience we offer on local and national levels. The firm is also gearing up to celebrate its 100th anniversary in 2021.
"We have gained a tremendous amount of experience in the nearly 100 years we've been in business," said James Overcash, Partner at Woods Aitken. "This experience adds to what we offer clients, including a strategic and forward-thinking approach to unique and complex legal challenges," said Overcash. "We work hard to find practical solutions for our clients' needs."  
The firm's office locations, phone numbers, email addresses, and website URL remain unchanged.  
About Woods Aitken
Founded in 1921, Woods Aitken works with clients ranging from individuals and local organizations to regional businesses and national corporations. Our approach to providing legal services is built on vast knowledge and experience, practical guidance, and long-term client success. We help clients identify unique challenges, minimize risks, and realize opportunities. Our attorneys are dedicated to results and compelled by integrity. Woods Aitken has offices in Denver, Lincoln, Omaha, and Washington, D.C.