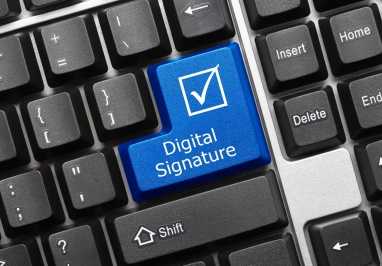 In light of COVID-19, this E-Brief is intended to (1) outline the basic elements needed to form an enforceable electronic signature, and (2) highlight recent changes to allow for remote notarization of documents.
Electronic Signatures: Under Nebraska's Uniform Electronic Transactions Act (UETA), electronic documents and signatures cannot be denied legal effect or enforceability merely because they are in an electronic form. Effectively, an electronic signature may be equivalent to a signature in ink on a piece of paper. 
To be enforceable under the UETA, an electronic signature generally requires (1) an agreement by the parties to conduct the transaction electronically, (2) the ability to attribute the signature to the signor, and (3) the retention of the electronic record.  These elements are discussed in turn below:
Agreement:  Most importantly, the UETA applies only to transactions where each party to the contract has agreed to conduct the transaction electronically. The parties' agreement may be formal (i.e. in writing) or informal (i.e. determined from the context and surrounding circumstances, including the parties' conduct). The easiest way to satisfy this requirement is to explicitly agree to conduct the transaction electronically in the parties' underlying agreement. Otherwise, a court will have to be involved to interpret whether the parties reached an informal agreement based on any ongoing email negotiations or the content of their emails.
Attribution:  An electronic signature is attributable to a person if it was the act of that person. Just like agreements on paper, a party may use any relevant evidence to establish that the electronic signature is or is not the "act of the person." While this element can be established in many ways, authentication could be established by someone who saw the person actually sign the document.  Alternatively, a party may point to any security procedures the sender has implemented (e.g. unique login IDs or password protected access) to show the electronic signature could not have been done by an imposter.
Retention: The UETA requires an electronic transaction to be recorded in an "electronic record" in order to be enforceable. An electronic record means information that is inscribed in a tangible medium (for example, a paper printout) or that is stored in an electronic medium that is retrievable in perceivable form (e.g. a PDF copy saved to a computer or cloud storage).  Accordingly, keeping thorough records of electronic signatures and the related agreements is critical to enforcing an electronic signature.
Remote Notarization: On March 27, 2020, the Colorado Governor Jared Polis ordered the temporary suspension of the personal appearance requirement for notarization during COVID-19, with additional rules and regulations to follow. Nebraska Governor Pete Ricketts issued a similar order on April 1, 2020 (the "Nebraska Order"), that expedites the effective date of the rules and regulations already in place for remote notarization. 
Nebraska's Online Notary Public Act (the "Act"), which was originally operative July 1, 2020, eliminates the general requirement that the signer be in the physical presence of the notary when the notarial act is performed by a remote notary public. The Nebraska Secretary of State's office will publish rules and regulations governing who can become a remote notary public, although registration as a traditional notary is a statutory prerequisite.
To be enforceable, remote notarization must take place within a specific platform offered by a "solutions provider." The Nebraska Secretary of State's office must pre-approve all of the solutions providers, and we anticipate additional providers being approved following the Nebraska Order.
While not every document requires notarization, some common documents requiring a notary public to witness the signature include: affidavits, deeds, construction liens and releases, guaranty agreements, powers of attorney, and insurance forms. If your business has forms or templates that require the document to be notarized, consider updating those to allow for remote notarization.
We will update this page when additional information is received regarding the implementation of remote notaries in Colorado, as well as the final rules and regulations from Nebraska. 
If you have any questions on this topic or need assistance, please contact our Business Services, Financial Institutions, and Real Estate Practice Groups. We encourage you to subscribe to our E-Briefs for the latest news, tips, and updates.
Woods Aitken recently launched a coronavirus resource page that includes valuable information regarding the coronavirus pandemic and all of our recent publications on COVID-19. We encourage you to visit this page often for updates.