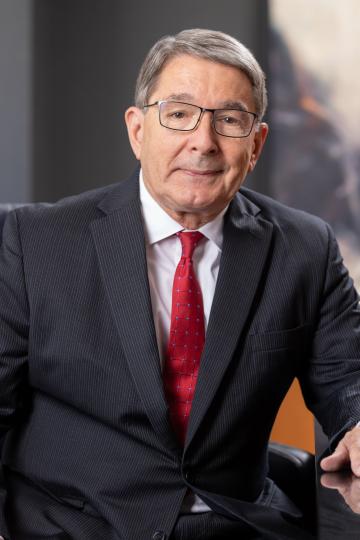 Terry C. Dougherty, partner at Woods Aitken, was recently named Boss of the Year by the Lincoln Legal Professionals Association.  Terry concentrates his trial practice on personal injury and products liability claims, commercial litigation, and construction law.
This prestigious and highly coveted award is given to an individual considered to be an exceptional workplace leader based on the following criteria:
Education, accomplishments;
Honesty, integrity;
Respect for profession;
Consideration of assistant and clients;
Flexibility, punctuality and courteousness;
Generosity in paying good wages and/or benefits;
Compassion; and
Support of the Lincoln Legal Professionals Association.
"I had already been working at my current law firm for eight years, when I had the good luck of being assigned legal assistant to an incoming attorney. Little did I know that I had won the jackpot! It's not every day that you come across a person that you respect on every level – professional, personal, and spiritual. This is a person who genuinely cares about the details in my life and the lives of others. He has a big heart and freely shares it by helping others, whether clients, the staff and attorneys, or the broader community...He loves and respects the field of law, sharing his expertise and giving liberally and from the heart...Bosses are often the primary reason for people either loving or leaving their jobs, so I will never take for granted my good fortune of working for someone who possesses so much talent and integrity, and still has a sense of humor. It is my pleasure and honor to nominate this exemplary leader for Boss of the Year."
2016 Winner of the "Boss of the Year" Award
Terry Dougherty of Woods Aitken
Nominated by: Janet Benner, with special contributions from Lyndsey Reddish and Audrey Svane