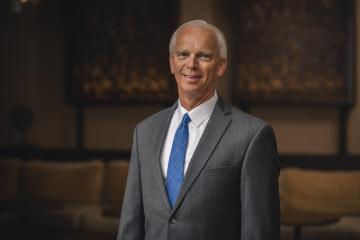 Woods Aitken is proud to announce that Dennis Mann, the Firm's Administrator, has earned the prestigious designation of Certified Legal Manager® from the Association of Legal Administrators.  Obtaining CLM certification shows great initiative and dedication to the profession, and demonstrates the mastery of a highly proficient legal administrator. Mann is currently the only active legal manager in Lincoln and one of four individuals in Nebraska to hold the CLM certification.
To earn a CLM, candidates apply their professional experience, complete educational coursework, and pass a comprehensive exam that covers all areas of legal management. By successfully completing this rigorous certification process, the CLM demonstrates their ability to operate at a high level of expertise and dedication to their firm, to the legal management profession, and to the legal community.
Mann is a member of the Association of Legal Administrators-Nebraska Chapter, Lincoln Human Resource Management Association, and Society for Human Resource Management. He has been with Woods & Aitken since 2012 and is responsible for managing staff, financial management, firm culture, and planning.  Prior to Woods & Aitken, Mann spent 32 years in various roles at Lincoln Public Schools, including seven years as a high school administrator and 25 years as a science teacher and coach.   
Founded in 1971, ALA is focused on the delivery of cutting-edge management and leadership products and services to the global legal community. It identifies and provides solutions to the most critical strategic and operational challenges its members and customers face today, and prepares them for the opportunities and challenges of tomorrow.  For more information on ALA, visit www.alanet.org.