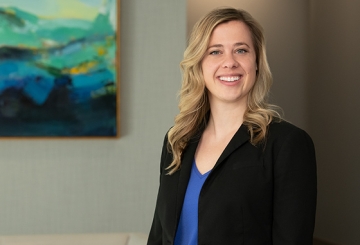 Woods Aitken is delighted to announce that Amanda C. Hoberg has been elected a partner in the firm. The election was effective January 1, 2023.
"We are delighted to welcome Amanda to the partnership," said Colin Baumchen, a partner in the firm. "Amanda is a strong litigator and an exceptional construction attorney. We are proud of her accomplishments and look forward to her continued success."  
Hoberg works in the firm's Denver office and focuses her practice on construction law and commercial litigation. She represents clients in all phases of construction disputes across a variety of industries. Hoberg values being an active member of the community and currently serves on the Board of Directors for a Colorado-based nonprofit that supports individuals pursuing work in the trades. She received her J.D. from the University of Colorado Law School.