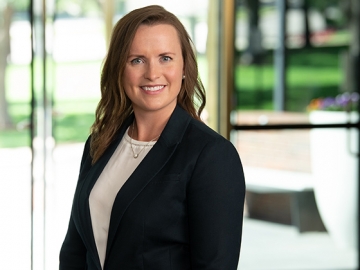 Woods Aitken is proud to announce that Denver attorney Laura J. DePetro has been selected for the 2022 Colorado General Counsel Mentorship Program.
DePetro focuses her practice on construction law and commercial litigation. She represents all types of construction companies on public and private jobs, whether it is a contract dispute, negligence claim, design deficiency, or complex delay and schedule issue. 
The Colorado General Counsel Mentorship Program is designed to provide a powerful networking and professional development opportunity for senior associates and junior partners with diverse backgrounds. The Program provides participants with direct access to General Counsel and senior in-house lawyers throughout the Denver Metro Area, who are voluntarily participating in the Program with the goal of helping attorneys successfully grow their practice and expand their mutual networks. The Program also provides participants insights on how to effectively build and manage client relationships, sell legal services, and develop direct relationships with chief legal officers.  
The 2022 Program consists of one-on-one meetings, in-person gatherings, and monthly webinars on various topics. Each session is designed to improve the participants' client management, business development, and networking skills.
Celebrating its 100th year, Woods Aitken has focused its practice of law on achieving long-term client success on local, regional, and national levels. The Firm has offices in Denver, Lincoln, Omaha, and Washington, D.C.