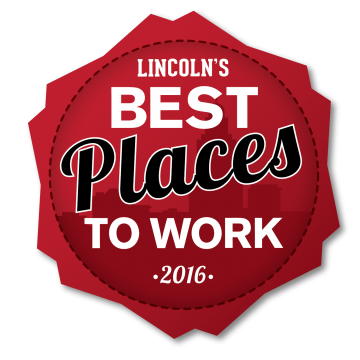 The contest was sponsored by Woods Aitken, the Lincoln Journal Star, and the Lincoln Human Resource Management Association.  Winners were determined based on the results of the Best Places to Work in Lincoln survey conducted in early 2016. The top five companies in each category were recognized at an awards luncheon on April 20 at the Cornhusker Marriott.
Final rankings:
Small Companies (10-50 employees): 
1. The Schemmer Associates
2. Child Advocacy Center
3. World of Knowledge Child Development Center, Inc.
4. Region V Systems
5. Stonebrook Roofing Inc.
Medium Companies (51-150 employees):
1. Edward Jones
2. Zillow Group
3. National Rural Electric Cooperative Association
4. Hausmann Construction Inc.
5. John Henry's Plumbing, Heating & Air Conditioning Co.
Large Companies (151+ employees): 
1. Hudl
2. Verizon
3. Assurity Life Insurance Company
4. Olsson Associates
5. Firespring
Community Impact Award:
Firespring
Read more about participating in Lincoln's Best Places to Work competition.