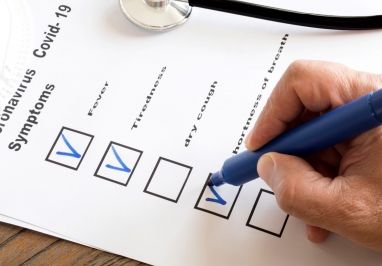 As many states have seen a surge in positive coronavirus cases, employers might consider adopting (or re-evaluating) their employee testing strategies when allowing employees to return to the workplace. While the Equal Employment Opportunity Commission ("EEOC") has said employers may test their employees for coronavirus before allowing them to return to work, employers considering implementing testing in their workplaces will want to keep several things in mind.
Selecting the Type of Test.  Employers should select tests and medical inquiries that are correlated to COVID-19 or symptoms associated with COVID-19. The most common practices involve temperature checks and/or questionnaires asking employees about experiencing COVID-19 systems or knowledge of potential exposure. The CDC's guidance identifies the following as COVID-19 symptoms: fever, chills, cough, shortness of breath/difficulty breathing, fatigue, muscle pain or body aches, headache, sore throat, new loss of taste or smell, congestion or runny nose, or gastrointestinal problems, such as nausea, diarrhea, and vomiting.  
The EEOC has also indicated that employers can test specifically for COVID-19, but not for COVID-19 antibodies. However, employers should look to guidance from state and local authorities on which tests are accurate, as well as guidance from the U.S. Food and Drug Administration and the CDC. Employers should also keep in mind that testing supplies are limited, which will likely inhibit their ability to test employees using these methods. Moreover, diagnostic testing only reveals if COVID-19 is currently present in an individual's system, and future testing would be necessary to ensure the employee did not subsequently contract the virus.
No Discrimination or Retaliation.  Coronavirus testing must be conducted on a nondiscriminatory basis. For example, an employer cannot choose to test only those employees who are considered at higher risk of COVID-19 due to age or underlying medical conditions. As a practical matter, this may require employers to test all employees returning to work.
Test Procedures.  To the extent possible, employers should have a medical professional conduct any diagnostic testing. However, temperature checking and similar testing can be done by the employer. If performed internally, the employer should take precautions to protect the individuals that are administering the test—for example, providing face masks, gloves, and physical barriers.
If the employer is requiring testing, employees should be paid for time waiting for and undergoing testing.
Consent for Testing.  As a general matter, employers can take steps to determine whether employees entering the workplace have COVID-19 and to ensure they do not pose a direct threat to co-workers. However, prior written consent is recommended before any medical screening. If the employer is only conducting temperature checks, the written consent should have employees acknowledge that the employer is not performing a diagnostic test and to consult with their medical provider if they become concerned about COVID-19 exposure.
Employers also need to consider how they will handle an employee who refuses to submit to testing. For example, an employee may have an objection to certain testing due to religious beliefs. In that case, the employer will need to engage in the interactive process to determine if it can provide a reasonable accommodation without an undue hardship or posing a direct threat to other employees in the workplace.
Positive Test Result.  Employers should determine when and under what conditions employees who test positive for coronavirus will be able to return to the workplace. For example, employers may wish to require employees to have doctor's notes certifying fitness for duty before returning to work. However, as a practical matter, health care professionals may be too overwhelmed during and immediately after an outbreak to provide such documentation. The EEOC has suggested that "new approaches may be necessary, such as reliance on local clinics to provide a form, a stamp, or an e-mail to certify that an individual does not have the pandemic virus." 
Employers need to also consider the effect an employee testing positive for coronavirus will have on the workplace. After consulting with local health officials, employers will want to identify those employees who recently came in close contact with the infected employee, as they may need to be removed from the worksite, self-quarantined, and encouraged to seek medical advice. Likewise, employers will need to take measure to thoroughly clean and disinfect worksites, tools, and equipment that may have been utilized by the employee. Finally, depending on the industry and work environment, employers will need to identify any reporting or notice requirements. For example, do you have any safety notice requirements (e.g., OSHA Form 300) or contractual obligations to inform owners, contractors, vendors, or suppliers?
Confidentiality.  All information about an employee's medical condition must be confidentially maintained in compliance with the Americans with Disabilities Act.  When providing notice that an employee has tested positive for COVID-19, the infected employee's name should remain confidential and limited, necessary information should only be shared with those on a need to know basis. However, employers may disclose the names of employees with COVID-19 to public health agencies.
Infection Control Practices.  Employers should continue to promote and enforce policies that help reduce the risk of spreading the virus, such as requiring employees to use personal protective equipment (i.e., masks and gloves), and to practice social distancing and regular handwashing. Employers should also continue routine cleaning and disinfecting of surfaces, equipment, and other elements of the work environment. 
If you have any questions on this topic or need assistance, please contact our Labor & Employment Law Practice Group and subscribe to our Labor & Employment E-Briefs to keep up with the latest HR news, tips, and updates.
Woods Aitken's Coronavirus Resource page includes valuable information regarding the coronavirus pandemic and all of our publications on COVID-19. We encourage you to visit this page often for updates.