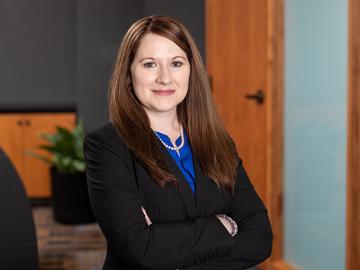 Kari A. F. Scheer joined Woods & Aitken in 2013 as an associate at the Lincoln office.  As a member of the firm's litigation team, Kari will work with clients in the commercial and construction practice areas.
Prior to Woods & Aitken, Kari served as a law clerk for the Honorable William J. Riley, Chief Judge of the United States Court of Appeals for the Eighth Circuit.  Thereafter, she was a law clerk for the Honorable Linda R. Reade, Chief Judge of the United States District Court for the Northern District of Iowa.  Most recently, she served as assistant attorney general in the Nebraska Attorney General's Office.
In 2008, Kari graduated with high distinction from the University of Nebraska College of Law.  During law school, she served as the executive editor of the Nebraska Law Review and was named to the Order of the Coif.
Since 1921, Woods & Aitken LLP has focused its practice of law on achieving long-term client success. Their commitment to client service and the longevity of their client relationships has afforded Woods & Aitken LLP the opportunity to emerge as a regional and national leader in the practice of construction, telecommunications, estate planning, labor & employment, real estate, and banking and finance law.