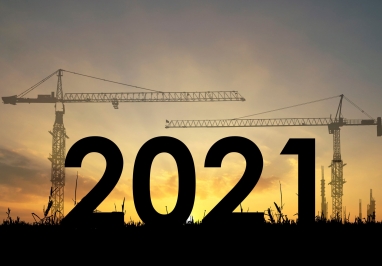 It's not too late to make or reevaluate your 2021 New Year's resolutions. We've compiled what we think should top your 2021 business resolutions to have a successful year.
Practice Due Diligence: Understanding and managing risks before you bid or negotiate a contract is essential. For example, knowledge and understanding of the type of project delivery system, type of entities involved, how the project is financed, the project personnel likely to be involved on the project, and the payment track record and litigation/arbitration history of the parties involved on the project is critical to understanding the risks and developing pricing.
Work on Your Estimating: Resolve to get project estimating right this year. Hiring and training the right estimator is always important.  If an estimate is off, it will be hard to justify any project overruns if things go south on a project.
Establish Sound Budgeting and Cost Accounting: Set up a system and method for tracking delayed, changed, and additional work.  Delays and changes stack up quickly on projects. Having a system in place to track work and dollar amounts spent toward discrete changes and delays is often key in proving a claim for extras and time.
Review Your Contracts: There are many contract clauses that contractors either want or do not want to agree to. Updating your negotiating skills and learning in contracts is crucial. This should include upstream contracts, such as the prime contract, if you are a subcontractor, and downstream subcontracts, if you are a general contractor. Avoid getting stuck with a contract that gives you no protection when you need it most.
Make Schedules Work for You: Make it a goal to start projects off strong with a good schedule, but if delays occur and the schedule comes off the rails, resolve to get a good scheduling expert on the team right away to begin assessing the impacts to the work.
Set Up Healthy Contract Administration Practices: Set up a system and train project management/executives to comply with contractual notice provisions. Make it a goal to not be shy when the project experiences a delay or work changes. Nearly all contracts require notice of impacts to the work.
Create a Strong Record Keeping System: Keep good records and document the project with your daily reports to support your position for additional compensation and time. Photographs and/or videos of job conditions and progress often tell the story of a project, so consider incorporating them into change requests, notices, and daily reports.
Preserve and Enforce Your Payment Remedies: Knowing your statutory and contractual rights is vital to effectively protecting payment rights when money dries up. Be aware that some states require notice or filing prior to performance of the work to preserve a mechanic's lien or other statutory claims.
Learn More About Your Insurance: Discuss new coverages and exclusions with your insurance professionals. Insurance carriers often change forms or tweak coverages and exclusions in response to specific losses or risks. Ensuring that the company and its insurance agent stay current on these developments is crucial.
Focus on Bonding: Discuss bonding and bond forms with your surety broker. Bond forms typically benefit the party that drafted the form. Review these bond forms to make sure they provide you proper protection and adequately account for the risks on each specific project.
The Construction Law Practice Group at Woods Aitken can help you and your team with these resolutions in 2021. We offer risk management seminars that can be tailored to address unique challenges facing a business and help you meet your 2021 resolutions. Please let us know how we can help.
We encourage you to subscribe to our E-Briefs for the latest construction news, tips, and updates.