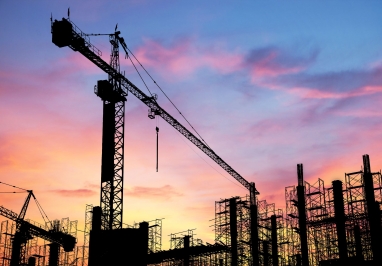 Although most businesses throughout the country have started to reopen without restrictions, the ripple effect of COVID-19 has created a wave of new material supply issues throughout the construction industry. Given the current market conditions and material shortages, contractors and subcontractors should review their existing agreements to determine what remedies may be available in the event material procurement issues impact their time for performance and/or cost of performance.  Further, contractors and subcontractors that are in the process of bidding private work on upcoming jobs should include reasonable disclaimer language to hedge against the likely impact of material price escalations and supply-chain delays. 
Below are six ways contractors and subcontractors can manage the risk of impacts from material price escalations and supply-chain delays on their projects.
Consider Contractual Force Majeure Provisions.

Force majeure provisions in contracts may provide some protection against supply-chain delays. We have previously discussed the legal doctrine of "force majeure," in the context of contractual provisions that may excuse performance, in whole or in part, as a result of COVID-19 related impacts.  Generally, a "force majeure" clause is a contractual provision that applies to both contracting parties, and provides that if a certain unexpected event occurs, such as a pandemic, either party may be relieved of having to contractually perform under the contract. Depending on the covered events listed in the force majeure clause, a contractor or subcontractor may be entitled to a time extension in the face of material shortages of items critical to the performance of the work, however, most force majeure provisions only provide for an extension of time and do not allow for any additional compensation.
 
Check for Price Escalation Clauses.

Some agreements include specific provisions that permit a contractor to seek compensation from the owner for an increase in costs associated with high demand for specified materials. For example, the ConsensusDocs cost-adjustment clause, Document 200.1, Time and Price Impacted Material Amendment 1, permits such recovery. The ConsensusDocs Amendment provides a framework for owners and contractors to protect themselves against construction material prices volatility, with a baseline price and built-in calculation method for potential price adjustments to the baseline price. The ConsensusDocs amendment also addresses time extensions in the event of delay to the project schedule caused by material scarcity or delayed delivery of materials.

The AIA A201-2017 General Conditions typically allow contractors to seek an extension of time for unavoidable delays associated with construction materials, and an increase to the contract price for unexpected changes in the tax law, but these General Conditions do not specifically address industry-wide price escalations caused by changes to the availability of essential materials.
 
Review Upstream and Downstream Contracts.

Although material price escalation clauses in subcontracts are not typical, subcontractors should review the prime contract to determine if such a clause exists and whether it flows-down to the benefit of the subcontractor. If possible, subcontractors should also consider including language in material purchase orders to pass down the risk of material price changes to their suppliers. Subcontractors should also require their suppliers to give prompt written notice in the event of unforeseen changes to the delivery schedule so that notice can be timely given upstream to the contractor and owner. 
 
Analyze Contractual Claims and Changes Provisions.

If material price fluctuations are not covered in a force majeure clause, then, absent some specific provision that addresses material shortages or delays, generalized language within the changes or claims provisions may provide some coverage for significant changes to the material price or time of delivery. At a minimum, parties should take care to give prompt notice upstream if they learn there will be increases to the price of materials or other issues with material procurement and should follow the claim notice and filing procedures in their agreement to preserve their rights.
 
Investigate Other Non-Contractual Legal Remedies.

If there are no existing contract provisions that provide relief, the aggrieved party may be able to argue excuse from further performance based on the legal theories of mutual mistake or commercial impracticability. Unfortunately, when sophisticated commercial parties are involved, these equitable theories are often highly scrutinized by courts and therefore are typically only pursued in the absence of other available contractual remedies.  Further, equitable defenses will typically will not provide a basis for an adjustment to the contract price or schedule.
 
Prepare Bid Disclaimers.

In addition to reviewing the contract language on existing projects and negotiating for the inclusion of beneficial language in contracts for new projects, parties should also consider including disclaimer language in bid proposals. While bid proposals are usually supplemented by a subsequent agreement executed between the parties, conditional language in a party's proposal can provide some coverage between the time of bid and the execution of their agreements after award of the job. For example, contractors and subcontractors can include language that makes their bid expressly contingent upon the current price and availability of materials and allows them to seek an equitable adjustment to their bid price if there are significant changes to the pricing and/or availability of material. 
Construction material shortages and price escalations are expected to continue or get worse in the short run and thus could lead to cost increases and schedule delays until supply and demand pressures ease. Accordingly, contractors and subcontractors should continue to monitor this issue and, before impacts first arise, reach out to legal counsel to proactively discuss potential strategies for relief.