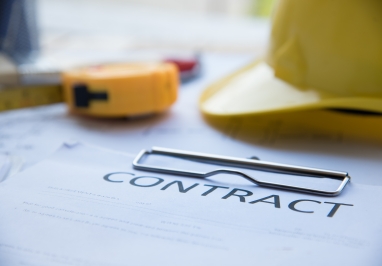 With 2021 coming to an end, it is a good time for construction contractors and subcontractors to reflect on the last year and to look ahead to 2022. Considering the continuing pandemic, unpredictable supply chains, escalating material prices, labor shortages, and new legislation, understanding risk allocation and protecting your right to payment when executing contracts has never been more important. While none of us know what 2022 has in store, it is worth taking a few minutes to reflect on the trending issues and lessons learned from this past year.
Toward this end, we are counting down the contract provisions that took center stage in 2021 in this four-part E-Brief series, where we will examine:
No-Lien Clauses,
Indemnification Provisions,
COVID-19 Related Contract Issues, and
Retainage and Payment Conditions
Here in Part 1, we take a look at No-Lien Clauses, contract provisions that force you to relinquish the important remedy to nonpayment – the mechanic's lien.
What Is a Mechanic's Lien and How Do No-Lien Clauses Differ from Lien Waivers?
A mechanic's lien is a powerful tool created by statute that protects contractors', material suppliers', and subcontractors' rights to payment on construction projects. See, e.g., Colorado Revised Statute § 38-22-101, et seq. However, in a few states, including Colorado and Nebraska, the right to file a mechanic's lien can be entirely relinquished with a simple contract clause. A relinquishment of this important remedy to nonpayment eliminates the ability to secure payment through a lien on the construction project property.
A "No-Lien Clause" contained in a construction contract should not be confused with a lien waiver. A lien waiver is signed in exchange for payment for completed work. Typically, the payee (e.g., contractor or subcontractor) signs a lien waiver in exchange for payment from the payor (e.g., the general contractor or owner). Through the lien wavier, the payee waives the right to file a lien for the discrete amount specified in the waiver, but the payee does not waive the right to file mechanic's liens for unpaid work, which leaves the right to file a lien largely intact. Executing lien waivers is a common practice and is usually not something to be concerned with, provided that the lien waiver is conditioned upon receipt of payment and only releases lien rights for which payment has been received.
However, even with their widespread use, contractors and subcontractors should take care when they sign lien waivers to ensure that they understand what they are giving up through the lien waiver. Lien waivers may contain certain clauses that waive the right to pursue other claims, meaning that a lien waiver may act not only to eliminate the availability of a mechanic's lien but also the availability of other claims, like breach of contract. Therefore, when negotiating lien waivers, contractors and subcontractors should try to include carve-outs that preserve claims that fall outside of the mechanic's lien statute.
What Does a "No-Lien Clause" Look Like?
Unlike lien waivers, No-Lien Clauses significantly impact contractors' and subcontractors' ability to secure their right to payment. In 2021, we saw an increase in contracts containing No-Lien Clauses. Below is an example of a No-Lien Clause: 
As a condition of Owner entering into this Contract with Contractor, Contractor agrees for good and valuable consideration that it shall not assert rights to or claim a lien, or encumbrance of any type or kind, including any mechanic's lien on any portion of the land, buildings, equipment, fixtures, or materials that constitute or form a part of the Project regardless of whether Contractor receives payment from Owner.
A plausible interpretation of this provision is that the subcontractor promises not to encumber the project with a lien, meaning the subcontractor promises not to file a mechanic's lien on it regardless of whether the subcontractor has been paid. Thus, this No-Lien clause could be interpreted to entirely remove the mechanic's lien from the subcontractor's toolbox of remedies for nonpayment.
Only a minority of states, including states like Colorado and Nebraska, permit and enforce No-Lien Clauses. The majority of states, including states like Utah and Nevada, prohibit No-Lien Clauses and will not enforce them against contractors and subcontractors. That said, state laws can vary: if your contract or subcontract contains a No-Lien Clause, investigate whether the applicable state law permits and enforces such clauses. Being armed with the knowledge of whether a No-Lien Clause can be enforced against you may benefit you when negotiating changes to contracts and subcontracts.
What Should I Do if I Encounter a Provision Under Which I Relinquish My Lien Rights?
No-Lien Clauses should be avoided or modified to the extent possible. The right to secure payment through a mechanic's lien is an important one, and it is sometimes the only way subcontractors, material suppliers, and/or general contractors can secure payment. If a contracting party insists on limiting the right to record a mechanic's lien, it will be important to evaluate your past relationship with or industry knowledge and financial condition of all parties, as well as other potentially available remedies in the event of non-payment. The trend of slow payments and strained cashflow is expected to continue into 2022. Consequently, contractors and subcontractors should exercise caution and due diligence before signing a contract or subcontract that asks them to relinquish their lien rights.
Up Next: Part 2
Stay tuned for Part 2, which we will publish on December 14, 2021. In Part 2, we will dive into Indemnification Clauses in Construction Contracts.
If you have any questions, please contact one of Woods Aitken's Construction Attorneys. We encourage you to subscribe to our Construction Law E-Briefs for the latest construction news, tips, and updates.