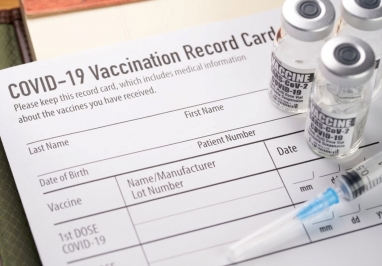 On November 4, 2021, OSHA issued an Emergency Temporary Standard (ETS) which, broadly stated, has three main requirements:
Written employment policy requiring either (a) mandatory vaccination or (b) mandatory masking and weekly testing for unvaccinated workers;
Employers must determine vaccination status of ALL employees.
This ETS was initially stayed by the Fifth Circuit Court of Appeals the day after it was issued. But, on Friday night, December 17, 2021, the Sixth Circuit Court of Appeals lifted that stay. (The case was transferred to the Sixth Circuit following a multi-district litigation lottery in which the Sixth Circuit was randomly selected to hear multiple challenges to the ETS on a consolidated basis.)  
Immediately following the Sixth Circuit's decision, multiple groups sought assistance from the United States Supreme Court to reinstate the stay.  However, as of yet, the Supreme Court has not reinstated the stay, making it imperative that employers of 100 or more employees immediately focus on this ETS and develop the necessary policies and procedures for its implementation. (Note to Smaller Employers:  You're not off the hook.  OSHA has sought to make the ETS' requirements applicable to you in other ways.  So, keep reading.)
Which Employers Does the ETS Apply To?
The ETS generally applies to employers with 100 or more employees who are governed by OSHA. (Among other groups, states and political subdivisions of states generally are not directly governed by OSHA's requirements.) Certain employees of such covered employers are excluded from the vaccination or testing/masking requirements. Those employees include those who: (i) work exclusively in a remote setting (if unvaccinated, they must show a recent negative test upon entering a covered workplace); (ii) work in workplaces where there are no other coworkers or customers; or (iii) work exclusively outdoors. Employers should note that each of these categories is highly defined in the regulations, including what it means to work exclusively outdoors. So, to the extent an employer seeks to rely on one of these exceptions in excluding a worker from the vaccination or masking/testing requirements, the employer should work with legal counsel or carefully review the regulations to ensure all such requirements are met.
There are two key exceptions to this standard of applicability, though.  Specifically, federal contractors and subcontractors that are covered by Safer Federal Workforce Taskforce rules (the "Federal Contractor Rule") and employers in health care settings who are covered by a healthcare-specific ETS (the "Healthcare ETS"). The requirements set forth in the Federal Contractor Rule and the Healthcare ETS are generally stricter than what is set forth in the general ETS. For example, there is no option to "mask and test" in lieu of vaccination in those rules, which is an option provided in the ETS. 
The Federal Contractor Rule and Healthcare ETS are subject to judicial stays in different parts of the country right now, though. The Federal Contractor Rule is currently stayed nationwide, and the Healthcare ETS is stayed in only certain states, including but not limited to Nebraska, Kansas, Missouri, Iowa, South Dakota, North Dakota, and Wyoming. As such, there is a significant question as to whether the employers that would otherwise be subject to the Federal Contractor Rule or Healthcare ETS will be deemed covered by the ETS. The answer to that question is far from clear, but like small employers, such employers should likely consider the requirements of the ETS for the reasons discussed below.
When Does the ETS Go into Effect?
There are two key dates that employers should be aware of moving forward:
January 10, 2022 – Date by which employers must show "reasonable, good faith efforts to come into compliance" with the ETS to avoid a citation for non-compliance with the ETS.
February 9, 2022 – Date on or after which OSHA will begin issuing citations for non-compliance.
Initially, the original effective dates of the ETS were December 6, 2021 (implementing a masking requirement for unvaccinated workers), and January 4, 2022 (implementing the vaccination or testing requirement).  Given the timing of the Sixth Circuit's decision, OSHA made the following announcement on the night of the decision:
"To account for any uncertainty created by the stay, OSHA is exercising enforcement discretion with respect to the compliance dates of the ETS. To provide employers with sufficient time to come into compliance, OSHA will not issue citations for noncompliance with any requirements of the ETS before January 10 and will not issue citations for noncompliance with the standard's testing requirements before February 9, so long as an employer is exercising reasonable, good faith efforts to come into compliance with the standard. OSHA will work closely with the regulated community to provide compliance assistance."
What Do I Do Now?
For employers who ceased (or never began) efforts at compliance following the initial stay entered by the Fifth Circuit Court of Appeals, this extended time to come into compliance is welcome. However, covered employers must move quickly, and they need to document the efforts that they take in order to show "reasonable, good faith efforts" at coming into compliance.  While it is likely a gray area as to what constitutes reasonableness or good faith efforts, it seems likely that most employers ought to do the following if they haven't already:
Determine which of your employees has been vaccinated, who hasn't been vaccinated, who plans to be vaccinated prior to February 9, 2022, and who is going to seek an accommodation for a disability or religious-based reason.  These are not questions to be asked at a toolbox talk or in another public settings.  There are limitations on what questions can be asked without violating the ADA or employee privacy rights.  There are requirements that the information be treated confidentially.  We've assisted many employers in developing these communications.  Please contact a member of our Labor & Employment Practice Group if you would like assistance on this task.
 
Develop a vaccination tracking methodology and/or identify third-party apps that can help with that task.  While some companies are utilizing Excel spreadsheets to track the required information, others are using third-party applications or extensions of payroll/HR software to track the information.  Regardless of whether your company mandates the vaccination or allows the option of testing/masking for employees who do not get vaccinated, you will need to track this information in a manner that complies with the ETS.
 
Determine if your company will mandate vaccinations or allow the option of testing/masking for employees who elect to remain unvaccinated, and develop an appropriate employment policy outlining the requirements.  This decision will likely be impacted by a number of factors, including:
 

The actual vaccination status of your employees.  After conducting a survey, you may learn that only a small minority of your employees are unvaccinated and do not wish to become vaccinated for whatever reason.  That is a very different situation than one in which a large percentage of your staff is unvaccinated. 
 
The types of projects your team is working on and possibility of private mandates or local government mandates.  If you are a federal construction contractor or subcontractor, the Federal Contractor Rule may be subject to a stay; however, testing/masking requirements remain in place on many (if not all) federal projects for unvaccinated workers.  Likewise, many private companies have imposed a variety of vaccination, testing, and masking requirements on those companies they contract with.  Local and state governments throughout the country have developed their own mandates that may apply.  You will want to consider those requirements in developing your employment policy.  Do you have a sufficient number of vaccinated workers to meet staffing needs on projects subject to such requirements?
 
Your company's administrative ability to implement and enforce a testing/masking option.  The ETS' testing/masking option is complex and requires detailed administration by the employer.  How will the employer comply with the requirements associated with providing that option?  For example, at-home tests cannot simply be completed by employees on Monday mornings prior to coming into work.  Employers must be involved in that process and/or ensure that such tests are conducted by proper third-parties.  Test results have to be tracked and records maintained.  Masking requirements have to be enforced, and masks made of suitable material need to be worn correctly over employees' noses and mouths.  How will your supervisors ensure unvaccinated workers are wearing their masks?  Generally speaking, different colored lanyards, marked name badges, etc. are discouraged because such items become visible representations to all employees about who is vaccinated and who is not.
 

If nothing else, consider implementation of a masking requirement for unvaccinated workers by January 10.  Given the holidays, an employer may not be able to accomplish all tasks associated with the ETS or, quite frankly, reach a decision on some of the basic issues identified above prior to January 10.  However, it seems likely that most employers have the ability to implement a masking requirement for unvaccinated workers by January 10, even if the enforcement mechanisms are not yet perfected.  Again, the key to avoiding a citation after January 10, 2022, is to show "reasonable, good faith efforts."
I'm a Small Employer or Otherwise Not Covered by the ETS.  Why Do I Care about this?
Short Answer:  Six is the same as half a dozen. 
Long Answer:  While the ETS does not apply to certain employers, OSHA's "general duty" clause does.  This clause is a catch-all provision, which states that employers are required to provide a work environment that is "free from recognized hazards that are causing or are likely to cause death or serious physical harm," and OSHA has been using that clause to issue citations to employers for safety violations relating to COVID-19.  Those violations relate to employer actions such as not implementing policies requiring the use of face masks or social distancing or not enforcing such policies that were written.
In OSHA's current "Guidance on Mitigating and Preventing the Spread of COVID-19 in the Workplace" (https://www.osha.gov/coronavirus/safework) ("COVID-19 Employer Guidance"), OSHA states that employers should implement a workplace COVID-19 prevention program and states that such action "is the most effective way to mitigate the spread of COVID-19 at work."  In the first paragraph of the COVID-19 Employer Guidance, OSHA states that the purpose of the prevention program is to "assist employers in providing a safe and healthful workplace free from recognized hazards that are causing or likely to cause death or serious physical harm."  In other words, it restates the general duty clause. 
OSHA then goes on to make the following statements in the next paragraph:
"[V]accination is the most effective way to protect against severe illness or death from COVID-19."  (This is the fundamental concept behind the ETS.)
 
"OSHA strongly encourages employers to provide paid time off to workers for the time it takes for them to get vaccinated and recover from any side effects."   (This is a requirement of the ETS.)
 
OSHA suggests that employers consider adopting policies that require workers to get vaccinated or to undergo regular COVID-19 testing – in addition to mask wearing and physical distancing – if they remain unvaccinated.  (This is a requirement of the ETS.)
In Other Words:  OSHA's COVID-19 Employer Guidance expressly states that the ETS provisions are what it thinks are necessary to comply with the general duty clause.  That is a real risk to all employers that needs to be taken seriously regardless of whether the ETS directly applies to them or not.
All Employers Should Consider COVID-19 Liability Protection Acts
In an effort to encourage the re-opening of the economy, many states throughout the country passed COVID-19 Liability Protection Acts.  Nebraska passed such an act in May 2021 (LB 139).  Under the Nebraska law,
"A person may not bring or maintain a civil action seeking recovery for any injuries or damages sustained from exposure or potential exposure to COVID-19 on or after the effective date of this act if the act or omission alleged to violate a duty of care was in substantial compliance with any federal public health guidance that was applicable to the person, place, or activity at issue at the time of the alleged exposure or potential exposure."
As defined by LB 139, "federal public health guidance" includes written or oral guidance issued by OSHA, the CDC, or the Centers for Medicare and Medicaid Services of the U.S. Dept. of Health and Human Services.
So, whether the ETS is stayed or whether an employer is exempted from its requirements for some reason, the employer's ability to take advantage of COVID-19 Liability Protection Acts such as Nebraska's LB 139 depends on whether that employer was in compliance with the COVID-19 Employer Guidance, which essentially follows the tenants of the ETS.
Note for Colorado Employers:  Colorado has not yet passed HB21-1074, SB20B-011, or SB21-080, all of which relate to providing liability protection from COVID-19 related lawsuits.  In the event that any of these bills move forward, it is notable that each of them contains a similar requirement that the person or entity seeking liability protective show a good faith effort to comply with applicable safety guidelines issued by state or federal governmental entities.
Conclusion
These are tough issues for employers to face, and the changing nature of the legal landscape hasn't made it any easier. If you need assistance in working through any of these issues, please reach out to a member of Woods Aitken's Labor & Employment Law Practice Group. We encourage you to subscribe to our Labor & Employment E-Briefs to keep up with the latest HR news, tips, and updates.