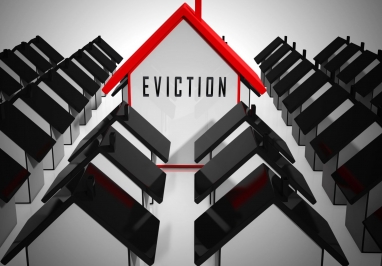 Nebraska Governor Ricketts has issued an Executive Order to help temporarily protect residential tenants from evictions who have been affected by COVID-19. The Executive Order expires on May 31, 2020, unless the Governor chooses to extend it further due to the state of the COVID-19 emergency.
To clarify, the Executive Order has no effect on eviction proceedings or lease terminations between commercial landlords and tenants; however, multi-family property owners, landlords, homeowners associations, condominium regimes, and property managers should be familiar with the temporary limitations set forth in the Executive Order.
As discussed further below, the Executive Order primarily limits (a) a landlord's ability to file an action for eviction or possession for unpaid rent, and (b) a landlord's justification for evicting a tenant or terminating his or her lease agreement.
Actions for Nonpayment of Rent:  Pursuant to the Executive Order, residential landlords cannot begin legal proceedings to evict their tenants for nonpayment of rent if the rent was due on or after March 13, 2020, so long as tenants can show their landlords, with supporting documentation, that the tenant:
Suffered a substantial loss of income resulting from COVID-19 or the COVID-19 state of emergency, including losing his or her job, having his or her scheduled hours of employment reduced, or his or her place of employment closing; or
Missed work to care for a relative or child after receiving notice from a school or childcare facility that the child may not attend due to closure or attendance limitations related to COVID-19.
This temporary prohibition on eviction actions for residential tenants is in place until May 31, 2020.
The Executive Order further modifies actions for possession for unpaid rent as set forth in the Uniform Residential Landlord Tenant Act.  The Executive Order waives the statutory requirement that the court hearing on such actions must be held not less than ten nor more than fourteen days after the issuance of the summons. Therefore, the timing of the hearing will be determined by the county court. All other provisions of the Uniform Residential Landlord Tenant Act remain in place.
The Executive Order explicitly states that the tenant's duty to pay rent or the right of a residential landlord to collect rent due are not extinguished. The Executive Order seemingly encourages landlords and tenants to make alternative payment arrangements for any unpaid rent.
Reasons for Eviction or Termination: Under the Executive Order, tenants or individuals permissibly residing with them under the terms of the lease cannot be evicted due to having a suspected or confirmed diagnosis of COVID-19, or for being under investigation for having COVID-19. This includes evictions by condominium regimes, cooperative housing agreements, and neighborhood associations. Residential landlords may still terminate rental agreements due to criminal conduct on the property, vandalism, or other material noncompliance by the tenant with the agreement that is unrelated to the payment terms of the agreement or with the laws of Nebraska. For example, tenants whose rental agreements have expired may still be evicted under the agreement's provisions and Nebraska law.
If you have any questions on this topic or need assistance, please contact our Financial Institutions or Real Estate Practice Groups. We encourage you to subscribe to our E-Briefs for the latest news, tips, and updates.
Woods Aitken recently launched a coronavirus resource page that includes valuable information regarding the coronavirus pandemic and all of our recent publications on COVID-19. We encourage you to visit this page often for updates.