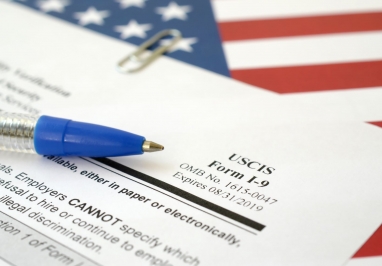 On October 21, 2019, the U.S. Citizenship and Immigration Services (USCIS) released a revised version of the Form I-9, used to verify employment eligibility. The new Form I-9 becomes mandatory on May 1, 2020. While employers may continue to use the current Form I-9 (revision date 7/17/2017) until April 30th, it is recommended that employers switch over to the newest version right away as failure to comply by the May 1st deadline can result in significant fines. It is available for download here. To verify that you are using the proper form, look at the bottom left-hand corner, which will contain the date 10/21/2019.  
The changes in the new Form I-9 are mostly minor, but include: additional countries in the Country of Issuance field; clarification that an employer may designate anyone as an authorized representative; clarification that writing N/A in the unused identity document columns is no longer necessary; and clarification that a worker's Employment Authorization Document does not qualify as a List C identification document.
For those employers operating entirely remotely due to the COVID-19 pandemic, the Department of Homeland Security's issued guidance in March on deferred physical presence requirements for the I-9. Click here for more information.
If you have any questions on this topic, or need assistance, please contact our Labor & Employment Law Practice Group and subscribe to our Labor & Employment E-Briefs to keep up with the latest HR news, tips, and updates.
Woods Aitken also recently launched a Coronavirus resource page that includes valuable information regarding the Coronavirus pandemic and all of our recent publications on COVID-19. We encourage you to visit this page often for updates.