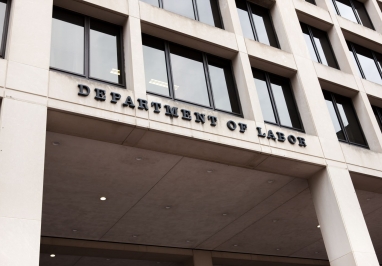 The Department of Labor ("DOL") issued the poster employers are required to post under the Families First Coronavirus Response Act ("Act"). As a reminder, the Act takes effect on April 1, 2020.
The poster sums up some of the Act's major provisions, including its paid leave entitlements, what employees are eligible for leave under the Act, and qualifying reasons for the leave.
Covered employers (private employers with less than 500 employees and most public employers) are required to post the notice in a conspicuous place on their premises. Employers with teleworking employees may email or mail the notice to its employees, or post the notice on an employee information website. Employers who have employees at several different sites or buildings must post this notice – and all other required federal notices – in each site or building required for all employees to easily see it.

Notes: 
The notice is only required to be posted in English, but the DOL is working on translating it into other languages.
The notice does not have to be shared with laid-off individuals, as the Act only applies to current employees.
The notice does not need to be shared with new job applicants. It must, however, be shared with all new hires.
The notice must be shared regardless of whether the employer's state or locality provides greater protections for its workers than the Act.
Any changes or updates to the notice will be posted on the DOL's website at https://www.dol.gov/agencies/whd.
The notice can be obtained free of charge by contacting the DOL's Wage and Hour Division at 1-866-4-USWAGE (1-866-487-9243). It may also be downloaded and printed from https://www.dol.gov/agencies/whd/posters.
If you have any questions on this topic or need assistance, please contact our Labor & Employment Law Practice Group and subscribe to our Labor & Employment E-Briefs to keep up with the latest HR news, tips, and updates. 

Woods Aitken recently launched a Coronavirus Resource page that includes valuable information regarding the coronavirus pandemic and all of our publications on COVID-19. We encourage you to visit this page often for updates.