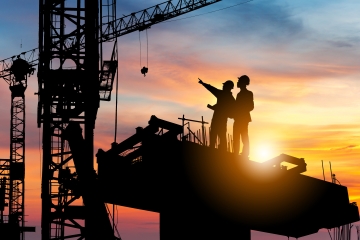 -
Speaker(s)
Erin L. Ebeler, Audrey R. Svane
Woods Aitken and the AGC-Nebraska Building Chapter are proud to present a bimonthly legal update series focused on the construction industry. Membership in AGC-Nebraska Building Chapter is not required. The presentations are complimentary; however, registration is required.
Tuesday, February 14 | 2 PM CST
Topic: Davis Bacon Basics
-When It Applies
-Basic How-To
-Common Problems
Speaker: Erin L. Ebeler, Attorney, Woods Aitken
Location: Garratt Room, The Lincoln Marriott Cornhusker Hotel
Contact Vicki at AGC-Nebraska Building Chapter to Register
Please register by February 10. Seating is limited. Length of presentation: 50-60 minutes. Time for discussion will be provided after the program. 
Tuesday, April 11 | 2-3 PM CST
Topic: Prompt Payment Obligations Under Nebraska Law
Speaker: Audrey R. Svane, Attorney, Woods Aitken
Format: Webinar
Register Here for April 11
Tuesday, June 13 | 2-3 PM CST
Topic: Back to Basics:  The Foundations of Construction Contracts
Speakers: Audrey R. Svane, Attorney, Woods Aitken & Tom King, Executive Vice President, Gene Lilly Surety Bonds
Format: Webinar
Register Here for June 13
Tuesday, August 8 | 2-3 PM CST
Topic: Managing Risks in Employment:  Hiring the Right Person, Managing/Terminating Poor Performers, and Addressing ADA/FMLA Needs
Speaker: Erin L. Ebeler, Attorney, Woods Aitken
Format: Webinar
Register Here for August 8
Tuesday, October 10 | 2-3 PM CST
Topic: Purchase Order Pitfalls
Speaker: Audrey R. Svane, Attorney, Woods Aitken
Format: Webinar
Register Here for October 10

Tuesday, December 12 | 2-3 PM CST
Topic: Employment Investigations: What to Do When…
a. OSHA Arrives at the Jobsite; or 
b. Employee Makes a Discrimination/Harassment Claim
Speaker: Erin L. Ebeler, Attorney, Woods Aitken
Format: Webinar
Register Here for December 12