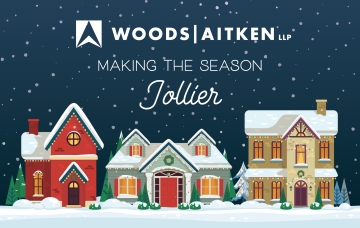 Happy Holidays from all of us at Woods Aitken LLP. We wish you a joyous holiday season and wonderful New Year! The "Joy of Giving" returns this season.
Joy of Giving
In 1921, Frank Woods, Sr., Thomas Woods, and William Aitken founded our law firm. Five years later, the partners hired Philip Aitken, brother of William Aitken, and paid him $50.00 per month, a decent wage for a fledgling lawyer at the time.
This fall and in reflection of Phil Aitken's starting salary, $50.00 was given to each member of the Woods Aitken family with the simple and profound task of making the season jollier for others.
The founders believed that serving the community was an obligation entailing more than the provision of outstanding legal services; it also entails active involvement and charitable contribution. This belief still holds true today. Every attorney and staff member at Woods Aitken is committed to making our communities better places to work, live, and raise a family.
Here are a few stories about our gifts:
A Warmer Day of Nebraska
We chose to donate to A Warmer Day of Nebraska. Their mission is to provide coats, mittens, gloves, and other winter apparel to children in need in Nebraska.
Alex's Lemonade Stand Foundation
I decided to donate to Alex's Lemonade Stand Foundation ("ALSF"), a charity which supports pediatric cancer research and families of children undergoing treatment. I selected this charity in honor of my friends' son who is currently battling Ewing's Sarcoma. The charity was founded by Alexandra "Alex" Scott. She was diagnosed with cancer just before her first birthday. When she was four, she decided to set up a lemonade stand to raise money to find a cure for cancer. With the help of her older brother, she raised over $2,000 in one day. In 2004, Alex passed away at the age of eight, but her charity continues to raise money for research and for the support of families affected by childhood cancer.
BraveBe Child Advocacy Center
I chose BraveBe Child Advocacy Center to support their work of providing safety and support in times of crisis for children. While seeking justice and providing hope, healing is the ultimate goal for these children. Empowering these brave children through BraveBe is a wonderful cause.
Colorado Youth Outdoors
The mission of Colorado Youth Outdoors is to build familial relationships through traditional outdoor recreation and incorporating basic relationship pillars into all our activities, including fishing, archery, camping, shooting sports, and nature play.
Completely Kids
Completely Kids serves more than 2,000 kids in the Omaha metro area with youth programming, food initiatives, family support, and mental health services. Their food initiatives include providing food to children and their families who may otherwise go hungry without it.
Covered Colorado
I chose a local organization that helps victims of human trafficking. Covered Colorado exists to help victims of human trafficking reach healing and self-sufficiency. Covered Colorado does this via a two-year, trauma informed, empowerment based, and survivor informed program that addresses four core issues using evidence-based practices: housing, education, counseling, and community.
CASA for Lancaster County
We chose to donate to the CASA for Lancaster County program. CASA stands for Court Appointed Special Advocates. These CASA volunteers are assigned to abused and neglected children and advocate for the child in the court system. They serve as a stable, role-model adult for the child but also ensure that the child's voice and perspective is heard by the court. It is a program I learned about through the law school, and it is clear that the impact that CASA has on the children in our community is very significant!
Dolly's Legacy Animal Rescue
This local rescue saves orphaned and abandoned pets from overcrowded shelters where they are out of time and out of hope to make it out alive.
Food Fort
I chose the Lincoln Food Fort because growing up a huge part of childhood was dinners each night with my family and this organization attempts to bring that feeling to under resourced neighborhoods of Lincoln.
Friendship Home of Lincoln
I chose the Friendship Home of Lincoln for all who suffer or have suffered domestic violence and felt there was no place to go. The Friendship Home of Lincoln provides safe and confidential shelter and support for abused women and their children. Domestic violence is a violent crime that harms women, increases child abuse, and endangers the lives and welfare of officers.
Habitat for Humanity
It is the definition of helping people help themselves. Most costs are paid by donations, but buyers must (1) help physically build the house, (2) take courses on home maintenance; and (3) show enough income to pay the reduced monthly mortgage.
Heartland Equine Therapeutic Riding Academy
Heartland Equine Therapeutic Riding Academy (HERTA) serves children and adults with disabilities such as cerebral palsy, spina bifida, muscular dystrophy, cystic fibrosis, brain tumors, head or spinal cord injuries, visual impairments, autism, developmental delays, and strokes. Therapists help inspire emotional, cognitive, social, and physical growth through interactive and engaging activities with horses. HERTA's mission is to improve the quality of life both physically and emotionally of adults and children of all ability levels through equine-assisted activities. Thank you so much for empowering us to make this donation!!!
Hooves & Paws Rescue of the Heartland
We are both passionate about helping animals and decided on Hooves & Paws this year. Hooves & Paws Rescue of the Heartland is proud to be one of the largest no-kill rescues and shelters for horses, donkeys, mules, dogs and puppies in Iowa and Nebraska.
justNeighbors Medical Debt Initiative
We donated in support of the justNeighbors Medical Debt Initiative. This program works toward providing more transparency and protection for those going through the legal process of debt collection. First Plymouth partners with an area debt collection agency that provides a random list each month of residents in Central Lincoln's Near South neighborhood that are in default for medical bills. The list contains no names, only a general description of their situation, amount owing, and zip code. The team then decides, according to that month's contributions, which medical debts will be paid. As of now, donations of $335,000 have reached 320 central Lincoln households to retire their medical debts - neighbors helping neighbors!
Lincoln Children's Museum
This Lincoln gem encourages my kids to learn, play, create, and use their imagination. It is full of discovery and adventure! My kids have spent HOURS inside Cuckoo Construction and yes, I have had to crawl inside the construction tower to get kids when it is time to leave.
Lincoln Children's Zoo
As a child, going to the zoo was something that I enjoyed and looked forward to every summer. As a parent, I see the same joy in my children. It is one of our favorite places to go and we make a trip nearly every weekend in the summer. Riding the train, feeding the giraffes, watching the penguins, and racing to feed the "paper eating lion," etc., are moments that we cherish and look forward to as a family.
Lincoln Council of Society of St. Vincent de Paul
It takes a village not a bureaucracy. The Society of St. Vincent de Paul adopts a triage mindset using every cent locally – no overhead and no set of rules. Volunteers go directly to those in distress and give aid to families facing eviction, get heat turned back on, buy groceries, meds for someone ill, or a bus ticket to reunite a family. They do not discriminate regardless of religious affiliation, or lack of one, and not one dime goes to any administrative costs.
McCook Family Resource Center Christmas Tree of Love
The McCook Family Resource Center (FRC) Christmas Tree of Love program provides community members the opportunity to adopt families in need during the holiday season. This year, I learned of a specific family with three teenagers that experienced a major ongoing health crisis resulting in the loss of income for both parents. The parents did not think their children would get anything for Christmas, and they were grateful and humbled when they learned they would be adopted. I have been joined by several amazing co-workers that have agreed to contribute their funds to this amazing program.
Nature Conservancy
The Nature Conservancy protects wild places, works on climate crisis policy, and rehabilitates natural areas in places vulnerable to climate disasters. Also, the Nature Conservancy has protected a few beautiful preserves in Southern Arizona, which mean a lot to a colleague.
Nebraska Adaptive Sports
I donated to Nebraska Adaptive Sports as this nonprofit facilitates athletic opportunities for people with disabilities, which allows people to stay active and create friendships. This was significantly important to me when I was newly injured because these activities connected me to people who experienced the same life changes.
Project Intentional, Inc.
I chose to donate to Project Intentional, which is a local organization that raises money and collects items to help low-income single moms provide Christmas for their kids. In 2021, Project Intentional raised $25,000 to help 485 moms.
Rocky Mountain Immigrant Advocacy Network
Rocky Mountain Immigrant Advocacy Network (RMIAN) is a nonprofit organization that serves low-income adults and children in immigration proceedings. RMIAN promotes knowledge of legal rights, provides effective representation to ensure due process, works to improve detention conditions, and promotes a more humane immigration system, including alternatives to detention.
Ronald McDonald House
My gift went to Ronald McDonald House. My daughter gave birth to a wonderful little baby boy at 22 weeks! He is a micro-preemie. The baby was moved to Children's Hospital in Seattle to receive the care that such a small baby needs to survive. My daughter lives 2 hours from the hospital and hotel costs are very expensive. Ronald McDonald House has provided a room for our daughter and her husband for the entire time the baby is in the hospital (at least 5 months). This is a small gesture considering the huge blessing that RMHC has been to my family.
Special Olympics Nebraska
We wanted to support one of our own members of the Woods Aitken family! We also think it is pretty impressive that Special Olympics Nebraska serves 5,500 athletes locally, and wanted to help support their mission to exceed each athlete's personal bests on the playing field and in life.
Strive to Thrive benefitting Good Life Community Development
I chose the Strive to Thrive fundraiser benefiting Good Life Community Development. Good Life is a nonprofit that provides support, tools and a stability coach to households that are at risk of poverty and do not have resources. The coach collaborates and mentors the household through six phases until they have a stable "assets of stability" score. This new nonprofit is doing proactive work in preventing poverty!
Voices of Hope
I donated to Voices of Hope in Lincoln, Nebraska. Voices of Hope provides confidential, 24/7 crisis intervention services to victims of domestic violence, sexual assault, and related forms of abuse. Additionally, they assist victims of abuse, as well as their children in working through the legal system, which can be a complicated.
Wish of a Lifetime
I chose to donate to Wish of a Lifetime, an organization that helps make the lifelong wishes of senior citizens come true. Watching senior citizens fulfill their dreams, no matter how big or small, is truly something special to witness.