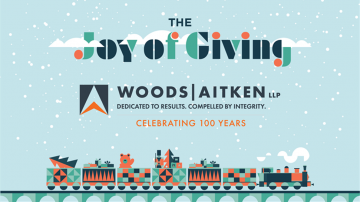 Happy Holidays from all of us at Woods Aitken LLP.  We wish you a joyous holiday season and wonderful New Year! The "Joy of Giving" returns this season.


Joy of Giving
In 1921, Frank Woods, Sr., Thomas Woods, and William Aitken founded the law firm Woods, Woods, & Aitken. In 1926, the partners hired Philip Aitken, brother of William Aitken, and paid him $50.00 per month, a decent wage for a young lawyer at the time.
The founders believed that serving the community was an obligation entailing more than the provision of outstanding legal services; it also entails active involvement and charitable contribution. This belief still holds true today. Every attorney and staff member in our law firm is committed to making our communities better places to work, live, and raise a family.
This fall and in reflection of Phil Aitken's starting salary, $50.00 was given to each member of the Woods Aitken family with the simple and profound task of doing the most good with it in the community. 
Here are a few stories about our gifts:
Autism Society of Nebraska
Autism Society of Nebraska provides information, referral services, education, peer-to-peer social networking and support for folks who are autistic and their families. All funds raised in Nebraska stay in Nebraska. In particular, the networking is a big deal: One of the most difficult parts of autism is finding opportunities for kids like my son to interact socially, because those interactions are scary or awkward. ASN helps those with autism, and their families, to find each other, so that they can have that interaction and community support.
Carole's House of Hope
Carole's House of Hope helps young women who have emancipated from the foster care system and/or have suffered from sexual abuse. These women often have young kids with them, and Carole's helps teach them basic life skills and to become self-sufficient. We have all come together with our contributions to purchase gifts and other necessities for mothers and their kids staying at Carole's House of Hope. We are blessed and thankful to be able to contribute on the giving end.
Casa de Paz
Casa de Paz (House of Peace) is a remarkable organization, run entirely by volunteers and funded by donation. The organization offers practical and emotional support in the form of free lodging, meals, transportation, and essential items to guests visiting their loved ones inside the immigrant detention center and to those who have been released and need help finding stability. The best communities are formed when all members feel supported, welcome, capable, and safe. Casa de Paz connects new community members with current community members who wish to extend these values to them, bringing out the best in all.
Centerpointe - Community Transitions
We all want the same thing - for people with mental illness to have the best opportunity to recover and live successfully in the community. Hope is essential for mental health, and compassion and encouragement inspire untapped potential. This 24-hour residential rehab facility enabled my courageous son to move from hospitalization to independent living. 
Child Advocacy Center
Great work for kids! The CAC helps abused children in many ways and is making a huge impact for the kids and families in our community. What they do matters; the safe and supportive environment they provide for a child to have the courage to begin the healing process is what they do best. We love this organization!
Christmas Tree of Love
Due to the COVID-19 pandemic, the Christmas Tree of Love, put on by the McCook Family Resource Center, is expected to have a higher rate of low income families in southwest Nebraska and northwest Kansas that need help providing gifts to their children at Christmas time. Together, we have sponsored two of those families, and we are providing clothing, shoes, and toys to several children in need.
Colorado Youth Outdoors
We give to this cause because we've witnessed the incredible bond between parents and children that grows through spending unhurried time doing unhurried activities in the context of an undeniably designed world of nature outdoors!
Energy Outreach Colorado
We chose to donate to Energy Outreach Colorado. This year, with so many people losing wages, the cost to keep homes warm and safe has been a financial strain and a stressor for many families. We are thankful to be able to contribute to this important cause.
Lincoln Children's Museum
This Lincoln gem encourages my kids to learn, play, create, and use their imagination. It is full of discovery and adventure! My kids have spent HOURS inside Cuckoo Construction and yes, I have had to crawl inside the construction tower to get kids when it's time to leave. Throughout this pandemic, we have used their Boredom Busters to continue learning at home – the Lincoln Children's Museum makes it fun!
Lincoln Children's Zoo
As a child, going to the zoo was something that I enjoyed and looked forward to every summer. As a parent, I see the same joy in my children. It is one of our favorite places to go and we make a trip nearly every weekend in the summer. Riding the train, feeding the giraffes, watching the penguins, and racing to feed the "paper eating lion," etc., are moments that we cherish and look forward to as a family.
Lincoln Public Schools Foundation
I strongly believe that a community's greatest asset is its children and that one of the most important ways to maximize their potential is through the public schools. The importance of our schools is even greater during this pandemic. The Lincoln Public Schools Foundation has made it a priority to make sure that the most at-risk children are not disproportionately impacted during this time. I've donated the funds that the firm provided, and matched with my own, to help the LPS Foundation in this important work.
Midlands Humane Society in Council Bluffs
We chose to donate to the Midlands Humane Society in Council Bluffs. Can't wait to see the "joy" in the little critters' faces!
Peoples City Mission
As we continue to adjust to living in a pandemic, it has been eye-opening to realize that many people must adjust more dramatically because of their disadvantaged socioeconomic position. Accordingly, I have decided to donate to the People's City Mission in their efforts to serve the needs of the poor and homeless.
Special Olympics of Nebraska
We wanted to support one of our own members of the Woods Aitken family! We also think it is pretty impressive that Special Olympics Nebraska serves 5,500 athletes locally, and wanted to help support their mission to exceed each athlete's personal bests on the playing field and in life.
Susan G. Komen Colorado Breast Cancer Foundation
About 1 in 8 women will be diagnosed with breast cancer, and the disease does not discriminate by age, race, ethnicity, or socioeconomic status. In Colorado, one woman dies every day from breast cancer. Susan G. Komen Colorado's goal is to reduce breast cancer deaths by 50% in the U.S. by 2026. The Colorado division looks to provide women with access to affordable, quality breast health care; fundraise for therapies and treatments to improve survivability; and support survivors and caregivers living with metastatic breast cancer, among other things.
Tecumseh Ministries
I donated to The Tecumseh Ministries, which works with local churches throughout the area and Southeast Nebraska Community Action (SENCA) to provide food during the month of November to families in need.  In prior years, Thanksgiving bags have been filled and distributed. This year, gift cards that can be used at the local grocery store in Tecumseh for food items will be provided instead to limit the possible transmittal of COVID-19.
York Adopt-A-Pet
I had a conversation with a friend who volunteers at York Adopt-A-Pet recently. I thanked her for volunteering because it's something that I could not personally do. It breaks my heart knowing that there are abused, lost, and abandoned dogs and cats, even in a small Nebraska town.