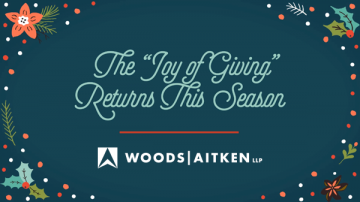 Happy Holidays from all of us at Woods Aitken LLP. We wish you a joyous holiday season and wonderful New Year! The "Joy of Giving" returns this season.
Joy of Giving
In 1921, Frank Woods, Sr., Thomas Woods, and William Aitken founded the law firm Woods, Woods, & Aitken. In 1926, the partners hired Philip Aitken, brother of William Aitken, and paid him $50.00 per month, a decent wage for a young lawyer at the time.
The founders believed that serving the community was an obligation entailing more than the provision of outstanding legal services; it also entails active involvement and charitable contribution. This belief still holds true today. Every attorney and staff member in our law firm is committed to making our communities better places to work, live, and raise a family.
This fall and in reflection of Phil Aitken's starting salary, $50.00 was given to each member of the Woods Aitken family with the simple and profound task of doing the most good with it in the community. 
Here are a few stories about our gifts:
Casa de Paz
Casa de Paz (House of Peace) is a remarkable organization, run entirely by volunteers and funded by donation. The organization offers practical and emotional support in the form of free lodging, meals, transportation, and essential items to guests visiting their loved ones inside the immigrant detention center and to those who have been released and need help finding stability. The best communities are formed when all members feel supported, welcome, capable, and safe. Casa de Paz connects new community members with current community members who wish to extend these values to them, bringing out the best in all.
Child Advocacy Center
We are involved with the Center's "Darkness to Light: Stewards of Children" program. This training helps adults protect children from sexual abuse. We have employed this in our church's education program where adults are responsible for the safety of the children. This is only one way that the Child Advocacy Center truly helps the community be a better, safer place.
Christmas Toy Box
"One of my happiest childhood memories is gathered around a Christmas tree with my siblings on Christmas morning, playing with each other's presents, and cradling my new Pound Puppy in my arms. At the time, I did not know that my mom, a single mother of four, would have never been able to provide me and my siblings with that experience if it were not for the kindness of strangers who contributed to programs like this one." This program hits home for one of our attorneys personally. There are some areas in rural Nebraska where those in need during the holiday season may not have access to the same number of resources that are available in more urban areas. Fortunately, McCook, Nebraska, has a Christmas Toy Box program, that collects new and lovingly used toys to distribute to parents with a need in the southwest Nebraska counties of Chase, Dundy, Hayes, Hitchcock, Frontier, Red Willow and Furnas, as well as the northwest Kansas counties of Decatur, Rawlins, Cheyenne and Norton. Several of our staff and attorneys decided to contribute to the program, and together, they were able to contribute a large number of toys, necessities, and other gifts to help the Christmas Toy Box program continue to provide joy to children during the holiday season.

Cystic Fibrosis Foundation
The organization selected me. My grandson has CF. He was not diagnosed and treated until he was 10 months old. Today, every newborn is tested before they leave the hospital. Today he is 15 and doing well thanks to donations that fund testing & research, research that produces treatment, treatments that will one day allow us to find a cure.
Colorado Youth Outdoors
I give to this cause because I've witnessed the incredible bond between parents and children that grows through spending unhurried time doing unhurried activities in the context of an undeniably designed world of nature outdoors!

Disabled American Veterans
The Disabled American Veterans ("DAV") has helped many, many veterans who have returned from active duty with a visible physical injury or two, or more. In addition to helping veterans obtain the post-duty benefits earned during their enlistment, the DAV also provides transportation for medical care, medical and mental health referrals to the VA Hospital, referrals to organizations related to education and job training, homelessness, and other life demands that require help to navigate the system.
Dominik Walters Memorial Fund
-As Nana to three grandchildren of my own, the story of Dominik really touched my heart.  For these parents to channel unbearable grief into a lasting legacy for Dom has turned tragedy into a positive and is a sobering reminder to cherish each and every day and be thankful for my blessings.
- I selected this memorial fund because of the story behind the cause. I can't imagine how it would feel to be Dominik's parents. However, it was incredibly heartwarming to hear about their desire to persevere in Dom's honor and provide a park for other kids in their community. It's an inspiring story and a cause I can 100% support!
Family Housing Advisory Services
Finding and keeping safe affordable housing is very difficult for so many families. I want to help a family keep their home.

Foster Care Closet of Nebraska
As a CASA in training, I have been learning much about the process children removed from their homes go through. They are often taken abruptly from their homes and usually with just the clothes on their back into the hands of people they have never met before. It is such a time of crisis and trauma that I feel anything we can do to make the experience less of a struggle is important. Being able to shop and choose clothes and personal items in a store-like setting is one way to give them back their sense of identity.
Lincoln Children's Zoo
As a child, going to the zoo was something that I enjoyed and looked forward to every summer. As a parent, I see the same joy in my children. It's one of our favorite places to go and we make a trip nearly every weekend in the summer. Riding the train, feeding the giraffes, watching the penguins, and racing to feed the "paper eating lion" are moments that we cherish and look forward to as a family. 
Lincoln Fire & Rescue
We donated complete BBQ meals with an assortment of meats and sides to two Lincoln Fire & Rescue stations. We wanted to recognize and thank these men and women for their service to our community and the sacrifices they make while doing so. They work 24-hour shifts away from their family and friends, responding to fires, accidents, and other medical emergencies. They see things that are worse than you can imagine. They know that at any given moment during their shift they risk making the ultimate sacrifice by putting their lives on the line. For this we simply wanted to say, "Thank you."
Matt Talbot Kitchen and Outreach
As frequent volunteers of preparing and serving meals to the Lincoln community at Matt Talbot Kitchen and Outreach (MTKO), the joy is ours in serving the citizens at MTKO. While serving meals at MTKO, we are overwhelmed by the gratitude expressed by the men, women, and children—their sheer joy at having a warm meal and someone to talk with them and share a smile.  With the onset of winter, it appeared like a natural choice to ensure that those to whom we serve a warm meal also had warm, dry winter clothing. We were able to provide 12 sweatshirts, 60 pairs of socks, 18 shirts, 12 stocking caps, and 70 pairs of gloves. Oh, how we wish we could be there again to see their smiling faces and share in the joy when they receive their winter clothing. There is thanks and joy in giving!

Methodist Hospital Foundation
My kids were born six weeks early at Methodist Women's Hospital, and in the month I spent living there with them, I saw the grace and strength of the doctors, nurses and staff who work there. Any help I can send their way is a fraction of what I owe them for what they did for my family.
Missouri Valley Boxer Rescue
Why rescue? The reason is simple: You'll save a dog's life. Vickie rescued Zeus seven years ago from the MVB. He was abandoned, close to starving to death, and tested positive for heartworm. The MVB rescue took him in despite the costs of treating him. Because of donations like this, Vickie has had seven years of a loving, confident companion, who despite his senior years continues to do his peanut dance every evening when she comes home and spreads joy and love to all who meet and greet him. Knowing that his life would not have been possible without the MVB, gives us great pride in supporting this Rescue.

Omaha Outward Bound School
A primary mission of this organization is to offer high quality school-based programs, one day challenge course programs, and front country expeditions for Omaha kids of all ages and backgrounds, with the goals of building confidence, leadership skills, team-building and collaboration, and effective conflict resolution methods and trust, while at the same time having fun and enjoying first time experiences.

Prosper Lincoln-Early Childhood/Read Aloud Lincoln
Preparing children to attend school and succeed has been and continues to be very important for our community. It is unquestioned that reading out loud during a child's early years increases and expands their interest in books and grammar as well as preparing them for learning. The mission of Prosper Lincoln's Early Childhood focus will benefit all of the citizens of Lincoln. 

SafeHouse Denver
This organization is near to my heart and the heart of my family. Although rarely discussed, domestic violence occurs in devastating proportions across the country, disproportionately affecting women and children. SafeHouse Denver provides secure emergency housing, safety planning support services, counseling, and community education and outreach to survivors of domestic violence and their children. SafeHouse Denver is full of everyday heroes, arming survivors with the strength and resources to leave dangerous environments, relearn their independence and reclaim their lives after the trauma of domestic abuse.
Sheldon Museum of Art
We donate each year to support the Sheldon and its programs. Art is important to us, and the museum is a benefit to the community. We feel the educational programs for students are especially important to support.
Special Olympics Nebraska
We wanted to support one of our own members of the Woods Aitken family! We also think it is pretty impressive that Special Olympics Nebraska serves 5,500 athletes locally, and wanted to help support their mission to exceed each athlete's personal bests on the playing field and in life. With an online match by S.O.'s partner, Finish Line, we were able to double our agents' contributions!